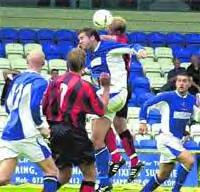 Parkin

Who is your main Player and why?
Jon Parkin. The ex-York man is what Macc have needed, someone up front with a bit of height and muscle. Other team's fans may jeer him, but I think he's great. He's got skill and gives 'em some stick back for a change. Jon has scored 20 goals in all competitions this season which makes him the Silkmen's top scorer in a Football League season. His 16 League goals ties him with Matt Tipton and Richie Barker for League goals in a season.
Who do you think will be Burys biggest threat in the game?


I would have to say that I think the biggest threat is Macc themselves gifting goals or it could be the Silkmen's tendency to sit back on too narrow a lead.
What do you make of Danny Swailes?

Very pleased to see him arrive at the Moss Rose. Always looked a very good defender and he scored a heartbreaking late winner against us two seasons ago. Looks like he needs to settle into Horton's system of three central defenders playing tight. Macc now have nine first team central defenders - Payne, Barras, Welch, Morley, Swailes, Carragher, Briscoe, Teague and Brightwell.
Is Brian Horton doing a good job?

With Macc in the top half of the League Two instead of being perennial strugglers, the answer must be yes. What he has actually done is a bit of a mystery to me. Players he brought in at the start of the season have gotten injured or not done as well as expected. It may simply have to do with attitude. Also Horton has got a good team of coaches under him that I think complement each other.
Do you think Macc will go up this year?

After the last two seasons struggling against relegation, I first of all want to see Macc get 48 points and they should be safe for another year of lording it in the Football League. I would say that until recently the Macc team hasn't looked strong enough to be serious contenders. But also points have been undeservedly lost that should have put the Silkmen up amongst the top group of three. Consistency is key.
The best team and player you have seen this season in L2?

It sticks in my throat to say that Rochdale looked good. We were awful that day at Spotland but they whopped us proper. Grant Holt looked a constant threat.

And who do you think will go up and go down?

I think that both the promotion chase and the relegation battle are still wide open. I think Yeovil may not be strong enough to maintain their push. Scunny are already wobbling and Swansea depend too much on their chinaman - Lee Trundle Pen. As for relegation, remember York City last season. They had 39 points from 28 games, and were sitting in tenth place. If they had managed to get another 11 points from 20 games it would have been Scunthorpe in the Conference! Teams aren't achieving consistency in this League. A good run of results can see any of eighteen clubs push on up and conversely a run of bad results will see a dangerous fall.


Thanks to Dave for his time